WELCOME to Learn Blues Guitar Now!
Happy Holidays Everybody!

I'm not much of a Black Friday guy, and I don't often have sales, but tis the season, and also I ordered too many books, so...I'm having a sale!

My two principle teaching texts for fingerstyle blues are:

A Guide to Acoustic Blues Guitar: Volume 1

A Guide to Acoustic Blues Guitar: Volume 2

These are self-published texts that are meticulously put together. Each book has TAB and standard music notation.
The first volume I have been using for about 12 years and has been a great tool for teaching the art of acoustic fingerstyle blues. It's filled with 35 songs, exercises and recordings that should keep the budding fingerstyle blues player enthused and busy for quite some time!

The 2nd volume, which I released last year, expands on the first volume with 32 more songs and exercises.

Both volumes have coil bindings which means they will sit comfortably on your music stand.

Recordings are available for both books as either downloads or cds.

Regular price was $35, but they are on sale now for just $25.00 + $5 shipping!
---
The site is dedicated to guitar education. If you are trying to find out about Pete Madsen's shows, cds, and  musical projects go to: petemadsenguitar.com
------------------------------------------------------------
---
NEW BOOK AVAILABLE NOW!:
A GUIDE TO ACOUSTIC BLUES GUITAR:  Volume 2
Forty songs and exercises to get your acoustic blues a kick start! Songs from Robert Johnson, Big Bill Broonzy, Mississippi John Hurt, Reverend Gary Davis and many more. Standard tuning, open g tuning, and open D tuning.
---
 TrueFire
Update: January 2023
TrueFire channel is still live and growing. The latest lesson is "John Henry," by Mississippi Fred McDowell in open D tuning (DADF#AD).
Check out my True Fire channel: access to lots of TABS, videos and acoustic blues guitar education. The focus is on fingerstyle blues. Learn to play:
• alternating bass
• monotonic bass
• slide guitar
• open tunings
• Lots and Lots of songs!
There over 200 videos and over a 150 TABS
Pete's Fingerstyle Blues Academy
I also teach private lessons at my studio in Berkeley. E-mail or call me for rates and availability.
---
---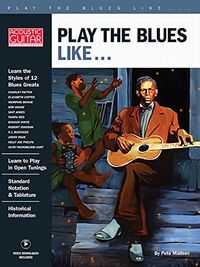 This book shows you how to play in the style of 12 different blues and blues-inspired artists, such as: Robert Johnson, Charley Patton, Skip James, Alvin Youngblood Hart, Memphis
Minnie, and many more. The book was written in conjunction with Acoustic Guitar magazine and published by Hal Leonard.
---
WHAT PEOPLE HAVE TO SAY ABOUT PETE MADSEN'S TEACHING:

I'm a beginning guitar player and have been Pete's student for a few months and wanted to write him up here because I couldn't imagine having found a better teacher. I tried a few other people before going to Pete and the difference is amazing. While most guitar teachers know how to play, Pete also knows how to teach.
He's great at explaining things, great at showing technique, he sends an audio recording of each lesson to your email address (a HUGE help), and teaches you songs that you want to play. In addition to all this his rates are good and he's a cool, easy-going, guitar-loving guy…
--private student

looked forward to the class every week. Even though we were at different skill levels, Pete provided each of us with personal attention which inspired us all to practice. It was fun and rewarding to see myself (and all the other students) improve over the period of the class. Highly recommended!
Bob, student from class


Pete Madsen's blues guitar classes at the Freight are just great! You learn a lot, and it is incredible fun. I honestly cannot get enough!
– student from class


i been playing for quite a while but not correct finger picking cant sink so this is nice and clear teaching i too think this is one of the best thanks bro
– youtube comment

Thanks for the good video on_ your blues lesson. You explained clearly and broke it down just enough keep up the blues lessons friend God bless

jo bro you helped me so much understand more about_ fingerpicking and syncopation. please keep on teaching man, your one of the best around…
--youtube comment




Took Pete's Acoustic Blues class.......it was everything I hoped for. He really helped me wrap my head around the fingerpicking that had eluded me for years....thanks again!
I'm looking forward to studying with him again in the future.
-- student from class